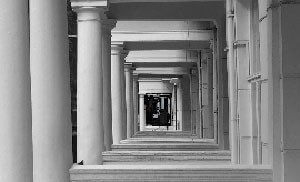 Change of Use for a Grade II listed building
Fuller Long has provided heritage input and a formal Heritage Statement to the owners of an early 19th century Grade II listed building in East London, helping them to secure a change of use from an office to a two bedroom residential unit.
The building was originally constructed as a house and Fuller Long Heritage Consultant Hannah Walker argued that the reversion of the building to its former use would enhance its historic and architectural interest and that the use would be more consistent with the domestic character of the internal spaces.  The conversion would also remove unsympathetic external manifestations of the office use such as signage and window decals, returning the building closer to its original appearance.
Fuller Long also argued that the internal works would have only a minor impact upon the fabric of the listed building and would better reveal its significance.  The works were shown to be entirely consistent with national policy and the Tower Hamlets Local Plan and planning permission and listed building consent were granted.
If you wish to discuss applications for Listed Building Consent with one of our consultants please contact us on 0808 164 1288 for a no obligation conversation.